Pregnancy in Canada: A Guide for Newcomers
I have 11 days left until my due date 🤯
As I prepare for D-Day, I want to give a huge shoutout to this incredible community for always checking in on me and sending me so much love!
When I found out I was pregnant 9 months ago, I was flooded with so many emotions…
Excitement of course. 
But also guilt as I was starting a family so far away from my loved ones back in the UK (click here for a vulnerable post on this topic and scroll through all the touching comments and advice I received from other expat mothers.)
In addition to the guilt, the nerves also hit me like a big fat bus – I was jumping head-first into the Canadian healthcare system as a newcomer with NO clue what to expect.
So, if you're planning on having a baby in Canada as a clueless immigrant like me, here is the breakdown of my entire pregnancy experience; from trying to conceive right up until these last few days!
* PLEASE NOTE:  It goes without saying that every single woman's experience of pregnancy and birth is so unique to them. I wouldn't advise using this blog post as a bible to show exactly what you will go through. Things will inevitably change depending on many things such as your individual scan & test results. But I hope you find this to be a helpful start to calm some of those nerves and use as base knowledge to not have to go into the experience completely 'blind'. As always, reach out to me on Instagram here with any questions and I'll always help in any way I can.
Trying to conceive
Not much to say here – Isaac and I were *extremely* fortunate and I thank my lucky stars that we had such an easy ride. Many couples don't.
1 month after we got back from our Honeymoon, we decided to start trying…

I booked an appointment with my local Family Doctor, stating that we were trying to conceive and that I'd like a quick overall health check-up, as well as the opportunity to ask any questions.
The Doctor ensured that I was up-to-date with all my vaccines and then advised me to start taking 'Materna' prenatal multivitamins. These were available in the aisle of my local Shopper's Drug Mart. Make sure they have "folic acid" on the label as this is really important to start stocking up on whilst you're trying to conceive, throughout pregnancy and post-partum. 
He also suggested that I book a dentist appointment to ensure that I was up-to-date on cleanings and any preventative work that needed doing – Not obligatory at all but a good idea as you don't want any unexpected dental complications when you are pregnant or have a newborn to care for.
2 weeks later, I had a positive pregnancy test in my hands…!
I'm sending you all the good vibes and manifestation that this will happen for you as well.
Choosing your care team
Doula vs. Midwife vs. Doctor ?????
I had no idea that there were so many options! As soon as you find out you are pregnant, you should first research and decide on your preferred birthing location (e.g. hospital / home / birthing centre.) You'll then be able to consider the options for your care team based on that choice.
For us for example, my chosen local hospital only allows for medical doctors (and optional doulas), so my choice was clear!

Here is a breakdown of what each provider represents:
Doctor
Obstetrician Gynecologist (OBGYN) or Family Physician
Almost always deliver in a hospital setting.
A great choice if:
You have an existing good relationship with your doctor and want to continue with the same care provider with your baby.

You have pre-existing medical conditions and/or a high-risk pregnancy.

You'd like the option of getting an epidural, or you're very anxious about something going wrong during labor and delivery. 
Midwife
Advanced Practice Nurse (APRN)
You will only see a Medical Doctor if there are any concerns or complications.
Post-partum home visits.
A great option if:
You have a low-risk pregnancy.

You dream of delivering at home or in a birthing centre.

You'd like to try for an unmedicated birth.
Midwives tend to offer longer appointments to answer your questions and build a relationship with you. 
They also often take a more holistic approach to your pregnancy & birth with less bias towards clinical interventions. However, doctors can also be like this nowadays, so it's worth asking for reviews, interviewing care providers, and finding a good match regardless!
Doula
Your "big sister" or "auntie" throughout pregnancy, birth and post-partum.
Doulas provide emotional, informational and physical support, as well as a warm, nurturing presence throughout.
Especially important if you are sad to be going through the experience without your parents/loved ones from your native country.
They get familiar with your "birth plan" and can strongly advocate for your wishes and preferences.
They can also coach your partner in how they can best support you throughout, as well as offer post-partum home visits to help you breastfeed and/or allow you to sleep overnight.
They are NOT covered by Canadian Provincial Healthcare / Insurance Plans – and will cost you approx. $1,000 – $1,500 CAD depending on the support package you select.
If you're in Toronto or the GTA, I'd highly recommend Mindful Mommy Doula Matchmaking Services. 
If you'd like more information, you can read this great article from Today's Parent.
"The most important thing is to choose someone you feel completely comfortable with, who's appropriate for your individual needs, who'll respect your wishes, and who practices in the right setting for you." – [

Source:

BabyCenter]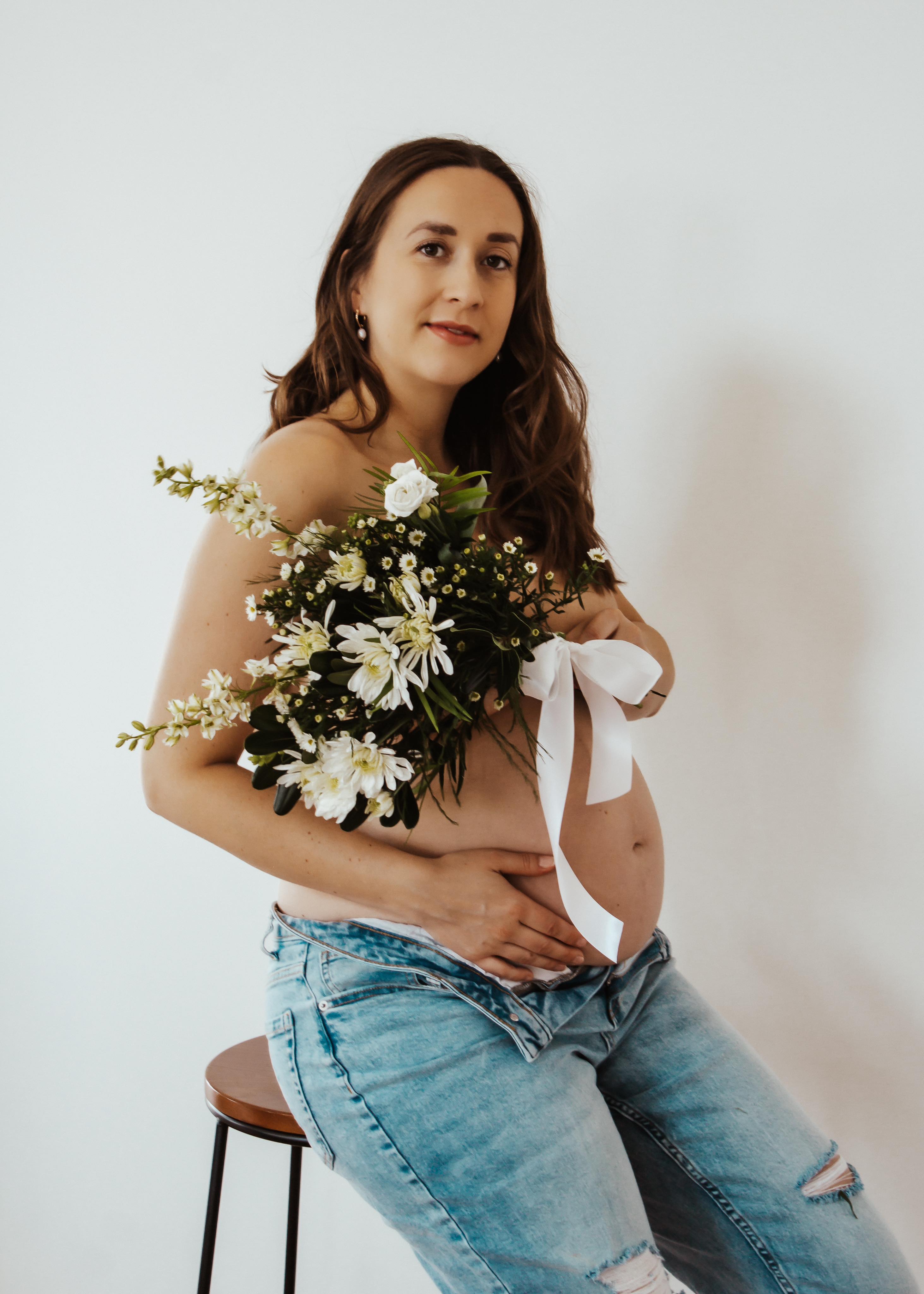 What's covered by Provincial Health Insurance
From my experience in Ontario, pretty much everything medically needed throughout pregnancy is covered by OHIP (the Ontario Health Insurance Plan). Just make sure you bring your Health Card to every appointment! This includes all doctor visits, tests, and scans. 
The only things I have had to purchase throughout my pregnancy are:
Materna prenatal vitamins

Palafer iron tablets (as I was diagnosed with iron deficiency anemia – very common)



If you'd like to book any scans in addition to the ones the doctor prescribes to you, this will be at an added cost to you (e.g. the increasingly popular 3D scans!)
TOP TIP: 
I highly recommend checking your Employee Benefits Plan (if you have one.) I took *full* advantage of my coverage on treatments to support my pregnancy such as:
Registered Massage Therapy

Pelvic Floor Physiotherapy (perineal massage from 34 weeks)

Acupuncture (to induce labour from 37/38 weeks)
My Medical Appointments and Procedures
My biggest lesson when it comes to scans & tests in Canada is that you have the right to choose where you'd like to get these done and by whom.
I blindly followed where my doctor recommended me to go for my first two scans and absolutely hated the clinic and the technician who performed them on me. From talking with other mums, scan technicians are notorious for being quite "cold" and "clinical" as they aren't allowed to tell you much about what they are seeing. Despite this, I'd highly suggest asking for recommendations for where to go for your various appointments and finding a warmer, chattier, friendlier tech if that is important to you!
I "shopped around" for my 3rd scan and found an alternative clinic that I loved so much more.
Here's a breakdown of all the medical appointments and procedures I had throughout my pregnancy:
To confirm pregnancy and due date.
Screening test for Down's syndrome (they measure the nasal bone and the "Nuchal Translucency" of your developing baby e.g. the thickness of the fluid buildup at the back of the neck.), as well as for Trisomy 18 and open neural tube defects.
You can also choose to find out the gender at this time!
They also take a blood sample from you to check hemoglobin, blood group and antibodies, syphilis, rubella, Hep B, and HIV – As well as test your urine for sugar, protein, ketones, and bacteria.
I cried when I got the call saying there were no abnormal results – Expect a very emotional, stressful time, lots of pressure, fear of the unknown, relief… All the things!

Full anatomy scan to ensure all body parts are developing correctly.
Had to come back for a 2nd appointment as the baby wasn't in the optimal position for viewing the heart! I was told this is very normal.
27 weeks: Glucose Challenge Screening and Glucose Tolerance Test.
You are asked to drink a very sugary drink and then wait for 1-hour in the clinic. After that time has passed, they take a blood sample to test for gestational diabetes, as well as to check your general health.
Mine came back negative for diabetes but this is when I found out I had iron deficiency anemia.
36 weeks: Group B Streptococcus Swab.
Not fun(!) but very important as if you are positive for this bacteria, you have to be put on antibiotics as it can be dangerous if passed to baby at birth. You can choose for a medical professional to perform the test or you can opt to do it at home. The swab has to be inserted in your vagina and then your rectum. 
Weekly ongoing appointments with my delivery doctor. 
They measure your tummy, check the baby's position and heart rate, and are available to answer any questions you have, as well as discuss your birth plan.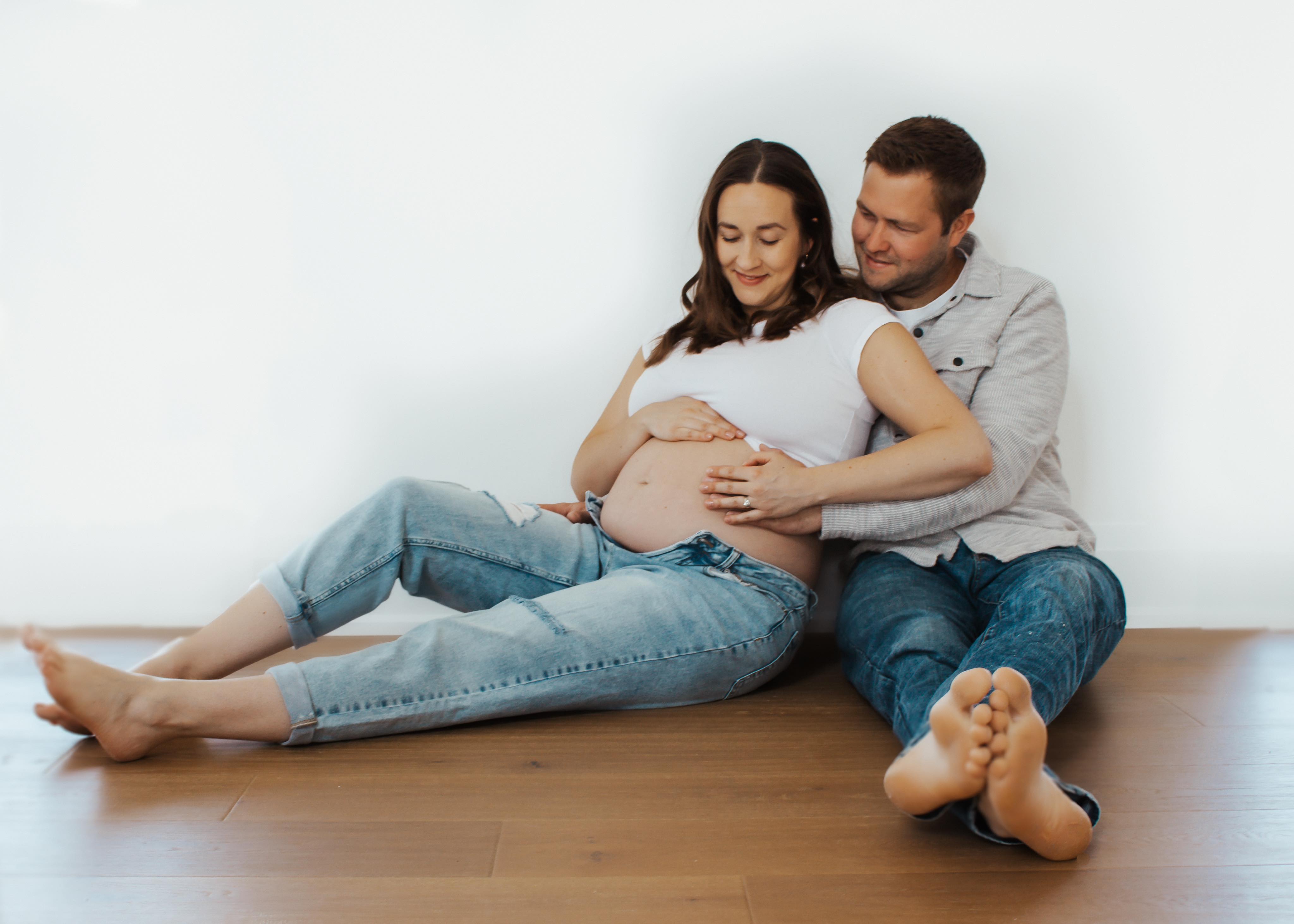 Maternity / Parental Leave
[Source: Nestlé Baby]
Before you leave:

Tell your boss your big news. Find out if there's anyone else you need to inform at work.

If you will require specific Workplace Accommodation, make sure to discuss your needs with your Human Resources (HR) representative.

Review your company's

Maternity and Parental Leave Policies

to determine your entitlements during your time off; reach out to your HR rep if you have any questions.

Review the Government of Canada website to determine your eligibility for

Employment Insurance (EI) benefits

during your time off. You could receive

55% of your earnings

, up to a maximum of

$650 a week

.

Learn more here.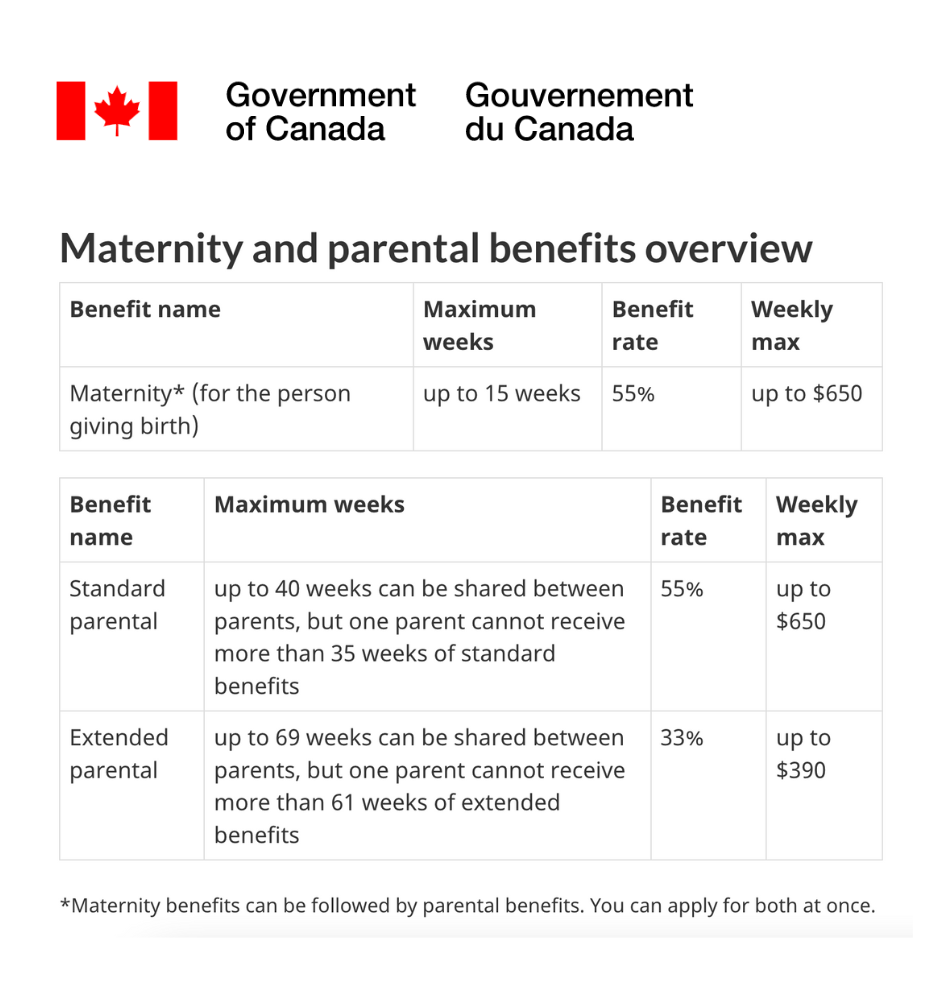 Think about how long to take off before baby arrives. Contact your HR rep, and complete any required forms, a minimum of 4 weeks before your intended leave. I'd suggest a minimum of 3 weeks before your due date as many women I know had their babies 2+ weeks early and you need some time to relax before the birth as pregnancy brain/exhaustion is *real*.


Ensure a proper handover with your Manager before your last day at work.


Apply for Employment Insurance (if eligible) as soon as possible after you stop working. Ensure your employer has submitted your 'Record of Employment' (ROE)' to Service Canada.



Consider putting your name down for your local childcare/daycare options (the waiting lists can be notoriously long!)
During your leave:
Notify your HR rep:

If your child arrives earlier than the expected delivery date you originally indicated.

To include your child as a dependent on your benefits plan.

If your personal contact details change during your leave.

If you would like to make any changes to your leave dates.

Contact your Manager and Human Resources representative at least 4 weeks before your scheduled leave ends to discuss your return to work plans.

Research and finalize childcare options ahead of your post-return to work.
After your leave:
While you prepare yourself to return to work, be gentle on yourself.
If required, discuss an onboarding / return place with your Manager.
Keep the lines of communication with your HR rep and Manager open, to discuss any changing needs you may have.
Recommended Resources
The Baby Academy: FREE online courses on baby care, safety, sleeping, breastfeeding, and more. Highly recommend (I can't believe they're free!)



Free samples! Big brands like

Pampers

and

Huggies

send free product bundles to your home including diapers, wipes, and coupons for future purchases. I saw a lot of sponsored social media ads for other "free sample packs" but I'd caution against handing out your personal details to just anyone. I stuck with well-known brands only.

Attend Baby Shows like

The Baby Show Toronto! Lots of freebies and expert workshops.



Enter

Canada's Luckiest Baby and be in with the chance to win a $70,000 prize bundle. I know the staff there and have spoken with previous winners, it is 100% legit.


Google "Lamaze Classes" in your local area (ideally at your birthing hospital) and attend with your birth support person – Prices vary, we paid $300 CAD but 10000% worth it for peace of mind on what to expect throughout the entire birthing experience.



The Belle Method:

Prenatal Pilates & Push Prep Online Course (for an empowered birth, more effective pushing & smoother postpartum recovery) – $197 CAD.


Google "pre-natal yoga" providers in your local area or ask your local Facebook groups for recommendations. This is so important to keep your body moving and pelvic floor/core engaged.


Freya: Virtual birth partner app:

A hypnobirthing coach that times & tracks your contractions, plays soft music, prompts breathing techniques, and offers guided relaxation throughout labour – $4.19 in Google app store.
Don't forget to join the Newcomer Collective so you don't miss out on any of our inspiring interviews and valuable 'life in Canada' lessons.
And, if you found this post helpful, pass it on to your fellow newcomers!