Don't go chasing waterfalls…. But if you do, you might as well go big, right?
As a newcomer to Canada, the Niagara Falls are an absolute must-visit. I think I'd set foot in the country for less than a week and I was already hopping in the car to go check them out!
To stand so close and watch over 500,000 gallons of water launch itself over the edge every second, to hear that roar as it hits the rocks below, to feel the cold spray on your face even from hundreds of metres away – Trust me, it's an unforgettable experience.
However, since then, I've discovered that whenever people come to visit me in Canada, they always ask if we can go see the falls! I've now made the trip more times than I can count and I love being able to watch their shocked faces as they experience it all for the very first time. Despite this, the same old "to-do's" of the buzzing, fun-filled Niagara Falls strip that you probably keep reading about just won't cut it for me anymore…
After a dozen visits, here is your guide to step away from the typical, touristy haunts, make the most of your stay, and take advantage of some hidden gems that the area has to offer…
1.  Hotel with a View
If you have room in the budget, I strongly suggest taking advantage of a hotel room with a view of the falls. It really is SO worth it when you open up those curtains and you're right there with them…
And in my opinion, it ultimately comes down to two hotel options:
So which one should you pick? Here are some quick pros and cons…
The best fallsview. Closer to the edge of the falls (100 yards!), as well as closer to the "Horseshoe Falls" (the more beautiful section compared to the American falls further up.)
A nicer hotel in general, with newly-renovated rooms, a luxurious reception area, Starbucks, fallsview restaurants, etc.
Burning Springs Spa & Thermal Pools available to add to your booking.
**BUT… It is a bit of a trek if you're looking to enjoy the famous Clifton Hill / Bars / Boat Tours etc (about a 25min walk and the surrounding area doesn't feel the safest at night.)
Amazing location! Minutes from all the action of Clifton Hill, Casino, tourist attractions, etc. Great if you're planning on having a few alcoholic beverages(!) and not wanting to worry about taxis or walking far to your room.
You can request a room with a sliding door/ balcony which allows you to lay in bed and listen to the falling water (truly unbeatable.)
**BUT… the view of the falls isn't as breathtaking. You're in front of the smaller American Falls and have to look far-right to see the grander Horseshoe Falls.
It really is up to you and what kind of vibe you're looking for! (This photo is me on the top floor of the Marriott 👇 )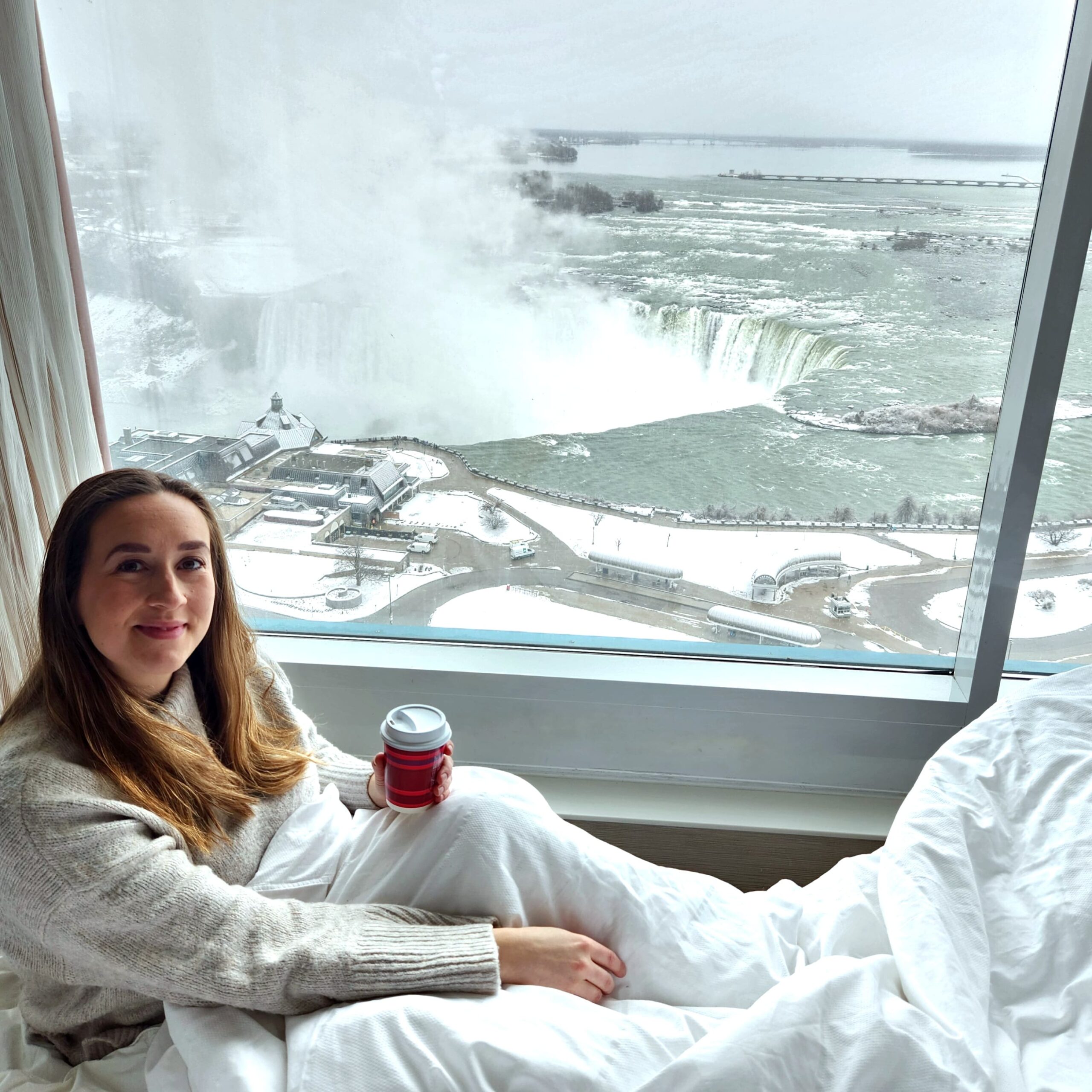 2. Experience the Falls
Here are my go-to ways to "soak" in the falls (hehe, see what I did there):
The Hornblower Niagara City Cruises (May – October)
You'll have probably heard of the "Maid of the Mist" but this is actually the name of the boats you board on the United States side! Everyone wears blue raincoats… The Canadian boats are called "Hornblowers" and passengers wear red – who knew? This is an absolute MUST-DO. It costs around $35 per adult ($25 per child) and they take you as close as possible to the American Falls, Bridal Veil Falls, and into the heart of the Canadian Horseshoe Falls. The sound and spray are indescribable.
Journey behind the falls (all year round)
This is really close to the Marriott Fallsview Hotel & Spa if you choose to stay there, and it allows you to get close and personal with the falls any time throughout the year. You simply walk through some historical tunnels, descend some steps, and emerge onto an observation deck right next to the Horseshoe Falls. It costs around $16 per adult ($10.50 per child.)  Watch video here.
I always make sure to learn about the places that I visit and the history of Niagara Falls is really fascinating. The IMAX theatre regularly plays the 3D movie entitled 'Niagara: Miracles, Myths & Magic' where history comes to life before your eyes and you can hear stories of the (insane) people that threw themselves down the falls! After the movie, you can visit the Daredevil Exhibit next-door to see and touch the real barrels and steel boxes that survived the plunge… Watch trailer here.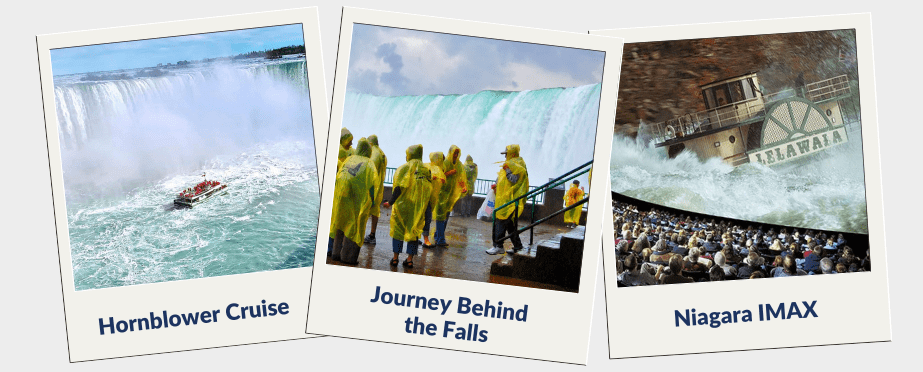 3.  The Street of Fun
Whilst it's great to search for those hidden gems, I'd still highly recommend diving into the tourist traps of the area.  If you have small children, they will absolutely LOVE Clifton Hill or the 'Street of Fun'. It's like a mini-Vegas strip packed with arcades, haunted houses, 4D theatre experiences, celebrity wax work museums, bowling alleys, Ripley's Believe it or not, parks with life-sized dinosaurs, gift shops, and more! It will keep them busy for hours.
If you're adults only, I can recommend:
Niagara Brewing Company (to enjoy local beers and live musicians)
Wizard's Mini-put (18-hole glow-in-the-dark golf, $12 per person)
Niagara Sky Wheel (one of Canada's largest observation wheels, $15 per person)
and of course, try your luck at the Casino!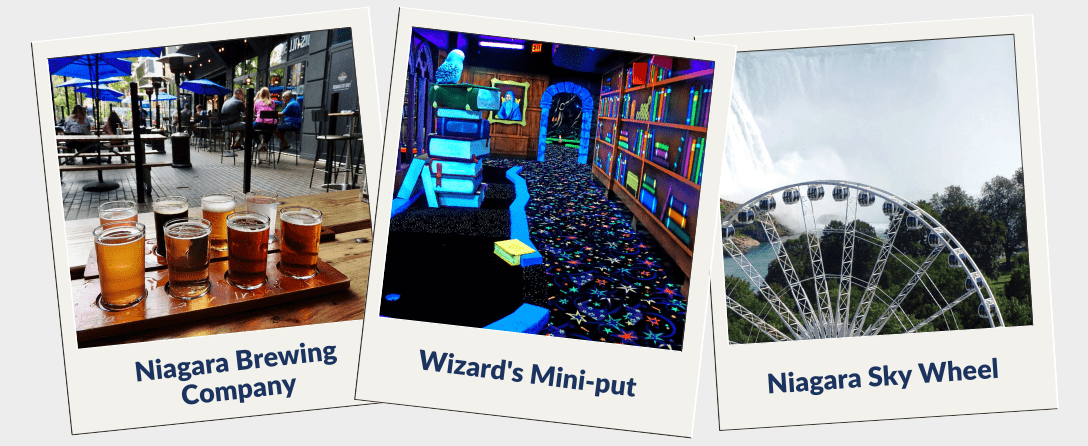 4.  Other Tourist Attractions
Fallsview Indoor Waterpark
This adrenaline-soaked water park is open all year round, so put on your best (most secure) swimsuit and spend hours hurtling down water slides and being tossed around by the wave machines. They even have one of those 'bowl' slides that spit you out like a sink and down a plug hole (my favourite) – You will have the best time guaranteed for all ages!
If you're a history buff, you should definitely check out this 115-year-old power station! Workers kept this pioneer of hydropower running and harnessed the powerful energy of the Horseshoe Falls for over 100 years. The tour offers an entertaining and educational experience that highlights both its remarkable history and unique architectural features. Learn more here.
Step inside one of the largest glass-enclosed butterfly conservatories in North America, walk through a tropical garden oasis, and be surrounded by over 2,000 vibrantly coloured butterflies fluttering around you! Learn more here.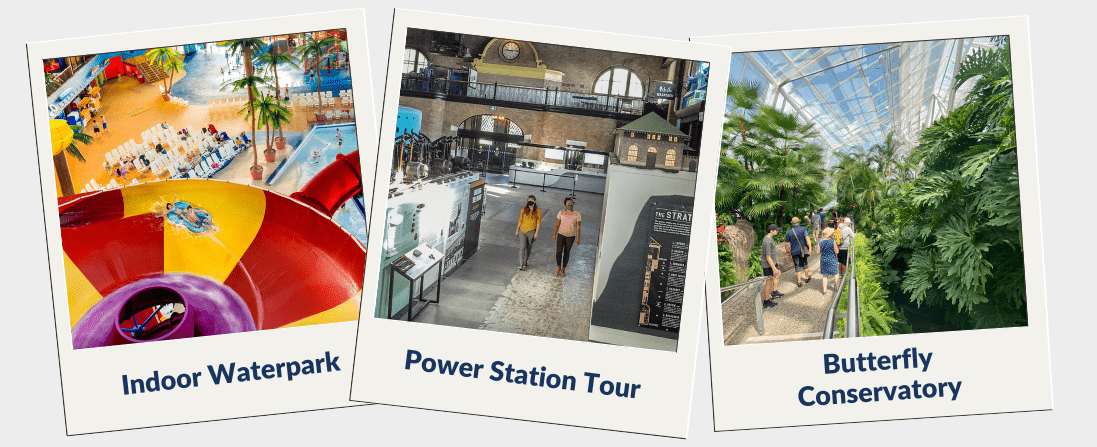 5.  Discover Niagara-on-the-Lake
I cannot stress this enough. It is SO easy to restrict yourself to staying in the immediate location around the Niagara Falls themselves – and completely disregard the surrounding areas of Niagara-on-the-Lake and its endless vineyards.
I, myself, only very recently discovered the scope of what it has to offer, so I'll be checking out a lot more locations very soon and will probably write a separate blog post once I've collected enough knowledge… But for now, here is what I've found:
This 5-star hotel in a 19th-century building is filled with warm crackling fireplaces, cosy carpets, and red-brick walls. The restaurants have that "home-cooked" feel to their food and the beds will give you *the* best sleep of your life!
I was recommended this place by the wonderful Niagara Falls Tours (@niagarafallstoursltd) and it did NOT disappoint. This is the perfect getaway with your partner or best friend and features hot springs, spa treatments (book in advance), a heated outdoor pool, nearby ice skating, firepits, and more. 10/10 recommend.
Local Museums, Galleries and the Queen's Royal Park Gazebo
Closeby to the hotel, you can explore King St and Queen St on foot and discover various galleries by local artists (I'd recommend checking out Upper Canada Native Art on Queen St.), famous gelato shops, the all-year-round Christmas store, and more.
Then, stroll to the Queen's Royal Park Gazebo for stunning views across Lake Ontario all the way to the Toronto city skyline!
High Tea at the Prince of Wales Hotel
I've heard great things about this so it is officially on my bucket list… Although a little pricey (from $48 per person), the experience is described as "Entering the Drawing Room for ornate tea sets, delicate desserts, and regal décor and be transported to the Victorian era." A special treat for your trip!
The Niagara region is famous for its wines and you might recognise some brands such as Trius, Inniskillin, Two Sisters, and Jackson-Triggs who have wineries open for you to explore. If you're heading to the area in the spring/summer months and you're a wine-lover, this really is a no brainer. The landscape is gorgeous for walks.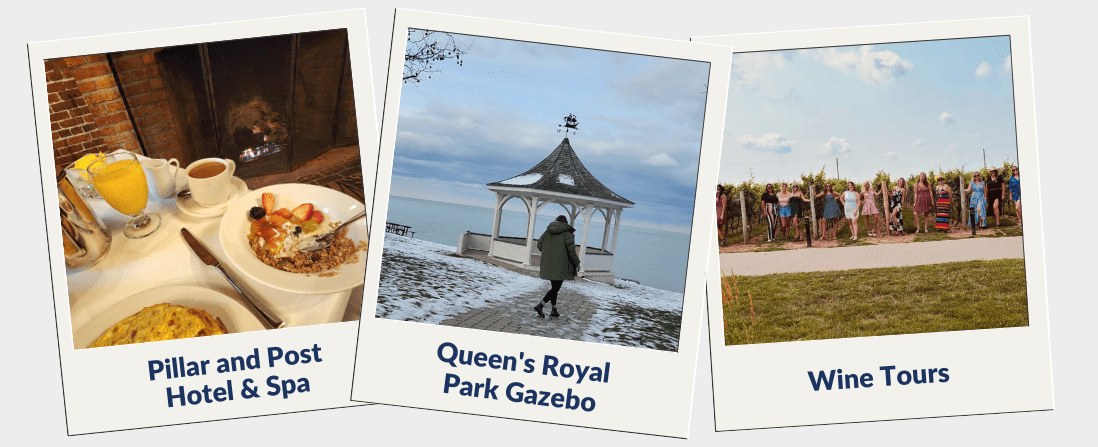 So there you have it!  Please let me know what your favourite Niagara spot to explore is (or if you've found any hidden gems I've missed by sending me a message on Instagram @TheNewcomerCollective)
Happy exploring 🌊🍇
Don't forget to join the Newcomer Collective so you don't miss out on any of our inspiring interviews and valuable 'life in Canada' lessons.
And, if you found this post helpful, pass it on to your fellow newcomers!