Filing Your Income Taxes in Canada
It's that time… Nothing screams how fast the years are passing by more than when tax season comes around (yet again!)
If you're new to Canada, here are some great resources for you to get a better understanding of how everything works here.
1.  Free Online Course: Personal Income Taxes in Canada 💻
The Government of Canada has put together a FREE easy-to-use online course to learn all about the Canadian tax system. I highly recommend taking the time to go through it. Topics include:
Why you need a social insurance number (SIN), when to fill out a TD1 form, and what's on your pay stub and T4 slip.
What you'll need to know before doing your taxes and the different ways to do them.
An introduction to a basic income tax and benefit return. What you need to report, how to claim deductions and tax credits, and finding out whether you will get a refund or owe tax.
What you'll need to know after you've done your taxes, including understanding your notice of assessment, paying off a balance owing, and interacting with the Canada Revenue Agency (CRA).
The services available through this online portal, how to access them, and why you may want to register.
An introduction to what taxes are, why they are collected, and how Canada's tax system works.
Some of the benefits and credits the CRA administers, what you might be eligible for, and how to keep getting your benefit payments.
2.  Free Webinar hosted by the Canada Revenue Agency (CRA)

The Canada Revenue Agency (CRA) is hosting an interactive webinar for Newcomers to share information on:
Canada's tax system
Residency status for income tax purposes
Canada child benefit (CCB)
GST/HST credit
ways to do your taxes, free tax help, and other CRA services
Date: Wednesday, March 8, 2023
Time: 2:00pm – 2:45pm EST
Participants will have the opportunity to ask questions throughout the webinar and we will be providing responses live.
*Also available in French!*
3. Listen to the podcast interview 🎙️
In this episode of the New to Canada podcast, I sit down with Paul Murphy, a Senior Communications Advisor at the Canada Revenue Agency (CRA) to discuss important tax tips that newcomers to Canada should know. Paul breaks down the process of filing your annual income tax return. He shares some definitions of various available benefits, credits and deductions that you can claim as well as which frauds and scams to look out for.
*Recorded for the 2020 tax season but packed with value for your ongoing filings!*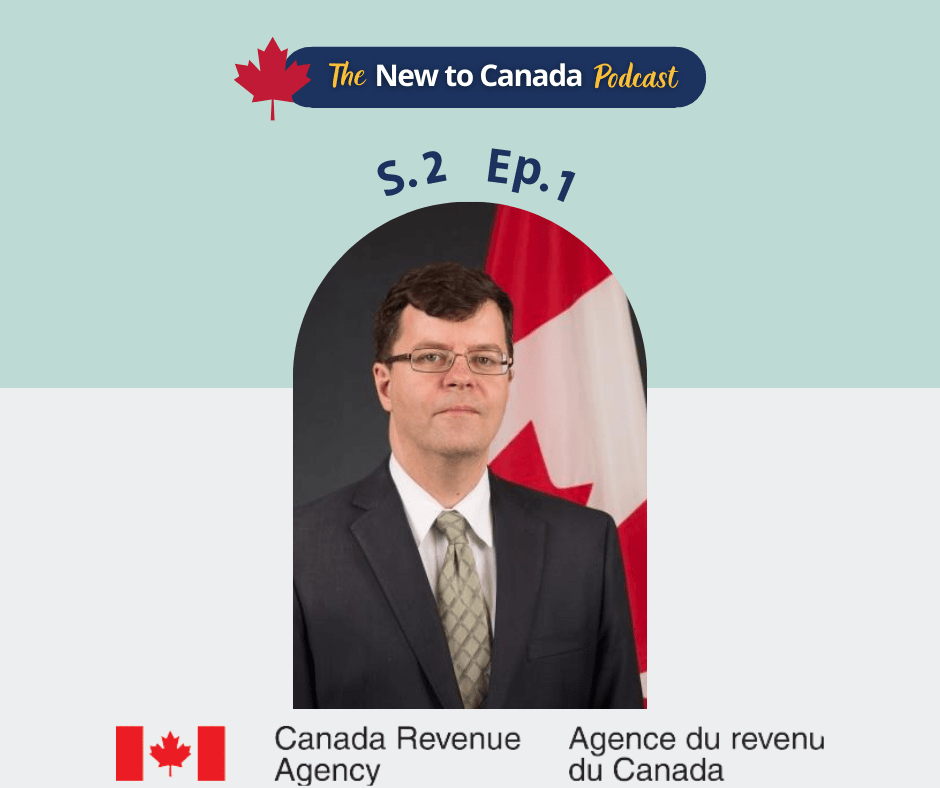 4.  Sneak Peek inside the New to Canada Academy 👀
Hit 'play' on the video below to watch a clip from inside the New to Canada Academy where myself and Relocation Expert, Diane Bergmann, cover Income Taxes in Canada 👇
Don't forget: You can join us inside the academy and instantly access all the trusted information, resources and community you need to make your move to Canada successful. We cover pre-arrival prep, "life admin"/logistics, emotional tools, Canadian culture, career and social life – Learn more here.
Now go out there and maximize those returns! 💰💪
Don't forget to join the Newcomer Collective so you don't miss out on any of our inspiring interviews and valuable 'life in Canada' lessons.
And, if you found this post helpful, pass it on to your fellow newcomers!